My Mission
In servicing my clients, I shall recommend that course of action, or provide that service which I would apply to myself.
Larry Christenson Wins 2011 Community Service Award from the Northwestern Mutual Foundation
Pacific Skyline Council, Boy Scouts of America is receiving a $10,000 grant from the Northwestern Mutual Foundation in recognition of Financial Representative Larry Christenson's outstanding volunteer involvement, as part of the company's 17th annual national Community Service Award program. Christenson is one of 26 financial representatives being recognized as top volunteers. Larry also received a Community Service Award in 2002 and 2007 for his work with the Pacific Skyline Council. Since the start of the Community Service Award program in 1995, the Northwestern Mutual Foundation has donated more than $3 million on behalf of its representatives to over 300 non-profit organizations across the country.
---
Focus on Retirement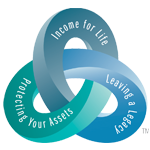 We're living longer than ever—and that means retirement will last longer as well. To help ensure you have the lifestyle you want in the future, it's important to develop a sound retirement plan today to make the most of your savings for tomorrow.
Larry Christenson works with his clients in every phase of retirement planning:
Guidance for Business Owners
If you own or operate a business, Larry Christenson recommends the following articles:
Click here to read additional articles.
With a focused expertise on the business owner, Larry Christenson can provide guidance for any stage of your business:
Disability Insurance for Medical Professionals
Physicians and dentists are aware of the importance of disability income insurance. But research conducted by Harris Interactive in 2008 revealed discrepancies between what medical professionals' expectations are of the coverage provided by "own occ" DI and what actually is covered.
To learn more about Northwestern Mutual's exclusive new Medical Occupation Definition for physicians and dentists and how it is designed to help meet your needs, review this brief presentation
The Northwestern Mutual Difference
We make plans for people, not just money. So no matter your goals, we have access to top rated products and services to help you meet each one.
Best Life Insurance Company ranked by NerdWallet, 2019 to 20201
AAA, Aaa, and AA+ the highest financial strength ratings of any life insurer from all four major rating agencies2
Top 10 U.S. Independent Investment Broker-Dealers3
1©2017-2020 and TM, NerdWallet, Inc. All Rights Reserved.

2Northwestern Mutual continues to have the highest financial strength ratings awarded to any U.S. life insurer by all four of the major rating agencies: A.M. Best Company, A++ (highest), April 2020; Fitch Ratings, AAA (highest), August 2020; Moody's Investors Service, Aaa (highest), December 2020; S&P Global Ratings, AA+ (second highest), June 2020. Third-party ratings are subject to change. Ratings are for The Northwestern Mutual Life Insurance Company and Northwestern Long Term Care Insurance Company.

3Measured by 2020 total revenues. Ranking for Northwestern Mutual Investment Services, LLC. Sources: Financial Advisor magazine and Investment News, April 2021.