My Mission
Financial security is often a major objective of each of our lives. You try to do what's right for those you care about, but the wrong financial decision can often undermine the best of intentions. Whether you are concerned for your financial needs or those of your family or business, our team can help you identify your needs and provide complementary solutions.
---
With A Focus on Retirement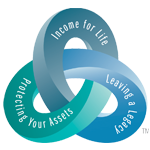 We're living longer than ever—and that means retirement will last longer as well. To help ensure you have the lifestyle you want in the future, it's important to develop a sound retirement plan today to make the most of your savings for tomorrow.
We can help. At Northwestern Mutual, our approach to retirement planning is designed to help you get to - and through - retirement with a greater level of financial confidence, so you can relax knowing you have a road map to achieve your goals.
As you zero in on retirement, you'll need a different set of strategies to manage risk and make your money last through retirement. Learn more about turning your money into a steady stream of retirement income in our two-minute video Getting to and Through Retirement, or on this Northwestern Mutual Website you can learn about strategies to optimize your retirement income options.
The Northwestern Mutual Difference
We make plans for people, not just money. So no matter your goals, we have access to top rated products and services to help you meet each one.
Best Life Insurance Company ranked by NerdWallet, 2019 to 20201
AAA, Aaa, and AA+ the highest financial strength ratings of any life insurer from all four major rating agencies2
Top 10 U.S. Independent Investment Broker-Dealers3
1©2017-2020 and TM, NerdWallet, Inc. All Rights Reserved.

2Northwestern Mutual continues to have the highest financial strength ratings awarded to any U.S. life insurer by all four of the major rating agencies: A.M. Best Company, A++ (highest), April 2020; Fitch Ratings, AAA (highest), August 2020; Moody's Investors Service, Aaa (highest), December 2020; S&P Global Ratings, AA+ (second highest), June 2020. Third-party ratings are subject to change. Ratings are for The Northwestern Mutual Life Insurance Company and Northwestern Long Term Care Insurance Company.

3Measured by 2020 total revenues. Ranking for Northwestern Mutual Investment Services, LLC. Sources: Financial Advisor magazine and Investment News, April 2021.